Prime Minister Narendra Modi on Wednesday cautioned BJP leaders against getting complacent ahead of the coming crucial electoral battles in the states, and in the 2019 Lok Sabha election, and asked them to strengthen the organisational "roots" (booth level).
Talking about Amit Shah, Narendra Modi spoke about how he had groomed Shah, who was 14 years younger to him.
Parliamentary Affairs Minister Ananth Kumar told reporters that Modi urged the BJP MPs to focus their energies on strengthening the party at grassroots level across the country for the next general elections. This was the first parliamentary party meeting after the Gujarat and Himachal Pradesh results and Modi shared his experience of how the BJP won Gujarat for a sixth time in a row after being a fringe party in the state for decades.
Party sources said Modi turned emotional a few times as he recalled how the party organisation was built in Gujarat and young leaders were groomed by their seniors, including former Prime Minister Atal Bihari Vajpayee.
Modi, however, told the MPs that he was not anxious about the fall in the BJP's tally in Gujarat as its vote share had gone up and it could win the trust of nearly half of the state's voters, said sources.
With the Congress claiming a "moral victory" for scoring its highest tally and pushing the BJP to its lowest score in the last many elections, Modi asserted that it was a big win for his party in his home State.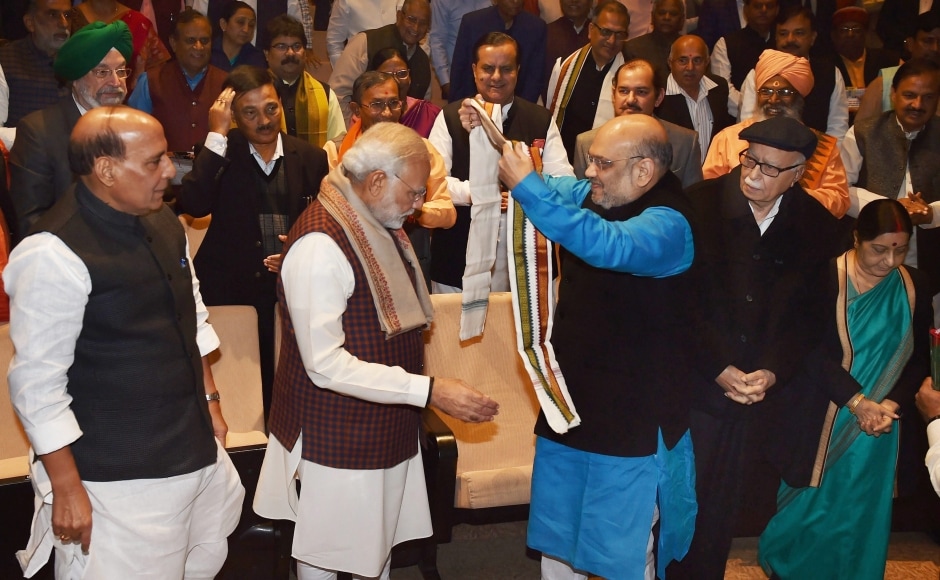 PM Modi turns emotional at party meet: Says while Indira Gandhi had 18 states, BJP now has 19
Sources also stated that the Prime Minister asserted his electoral track record, saying that under the reign of former Prime Minister Indira Gandhi, the Congress had been in power in 18 states, while the BJP now shares power in 19 states.
Modi broke into tears as he recalled the work of Makrand Desai, Arvind Maniyar and Vasantrao Gajendragadkar among others in building the party, known as Jana Sangh in its earlier avatar, in Gujarat, the sources said.
The PM also met MPs from Gujarat and Himachal Pradesh separately amid speculations about different names for the top job in the two States.
"For two days, we will meet here in Mehsana, and on third day, we will meet in Ahmedabad where Congress president Rahul Gandhi will visit to address party workers", he said. The names of Union Health Minister JP Nadda and local leader Jairam Thakur are doing the rounds for the CM's post in the hill State. Modi said it was not easy for the BJP in Gujarat as several prominent leaders had left but the party's expansion continued.
The Prime Minister also called for promotion of young faces within and outside the party, sources said.
Newsletter has been successfully subscribed.